31.5.04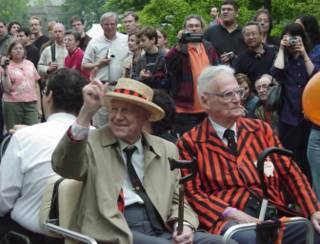 Princeton Alumni Weekend P-Rade

happy memorial day
Today is Memorial Day, which you might not know if, for some reason, you're reading this blog from another country. Anyway, this Memorial Day is absolutely beautiful. If you like rain and clouds and 63 degree weather, which you might if you were from like Alaska or something (no offense to people from Alaska, I've been there and I loved it). So yeah, today is gross and ugly and not what Memorial Day is supposed to be like. So I'm pissed. I wanted to have a nice barbecue tonight (prolly shoulda run that past my parents first though, oh well, its not happening now) with yummy hot dogs and hamburgers and pasta salad, but noooo, the weather won't cooperate.
The Memorial Day weekend is not however, a total bust. I did make it down to the beach yesterday. My best friend graduated from college (yay for college graduates!)and so her parents threw her a graduation party. They live down on Long Beach Island in South Jersey, which, if you're not familiar with it, is a 22-mile long island which is completely deserted 9 months out of the year. This weekend starts the three-month-long stretch where there are more people than you could possibly know what to do with down there. Still, even though I've never been a huge fan of the Jersey shore, I have to admit that I like it down there. I used to spend every Memorial Day weekend down there with my best friend (since my parents won't go within like 30 miles of the Jersey shore--which is good b/c if they wanted to be any farther away from it than that, we'd have to move). Point is, I made it down to the beach yesterday.
So, speaking of college graduations, Princeton University's graduation is going on this Tuesday. We live about 6 miles from Princeton, which means that this weekend began the hell of Alumni Weekend. Hell officially ends with the conclusion of the Commencement ceremony on Tuesday (although really, I don't think hell officially ends until everyone gets their car the fuck out of town), although the ceremony is usually long enough to stretch into part of Wednesday. Those Ivy Leaguers really like to pat themselves on the back. The one exciting thing about this year's commencement is that my favorite comedian is going to be there. JON STEWART! Jon grew up in Lawrenceville, NJ (where I lived until I was 6) which is not at all relevant to why I'm excited that he's coming to town (I'm acting as if he's Santa Claus or something). I just think that he's really great. And that he's from around here doesn't hurt, but I dont' think it actually has anything to do with the fact that I like his sense of humor.
I think perhaps I have babbled enough for one day. Now I must return to my other hellish reality, the one that has nothing to do with Princeton, its ridiculous alumni P-rade (they really call it that, and the alums really do walk around town wearing BRIGHT orange jackets and tiger's tails pinned to their butts) or its 10-hour long back-patting ceremony. Alas, I have more LSAT homework to do. But, I am almost done with it. I only have 1 book left! I know you have no idea what I'm talking about, but just congratulate me already.


29.5.04
my neck hurts
I've been playing too much online Pyramid solitaire. I'm a
dork
. I've also been doing
dumb
things lately, like signing up for all those cash for surveys type of sites. The newest one I've signed up for is
Inbox Dollars
, which actually seems to be an okay one, not to mention which you get $5 just for signing up (and yes, I am that dorky that I did just give you a referral link because if you sign up with me as your referral, I get $5). I'm not going so far as to clutter up the blog with banner ads from all these places though. Anyway, nothing much else is going on. I should be doing homework instead of trying to earn money online. Wanna follow my logical train of thought on that one? Just watch.
HOMEWORK-->GET GOOD LSAT SCORE-->GET INTO GOOD LAW SCHOOL-->GRADUATE FROM SAID GOOD LAW SCHOOL-->MAKE MUCH MORE MONEY THAN COULD EVER MAKE ONLINE
. Pretty smart huh? I know, you're not impressed. But I am that bored.
Anyway
, glad to see that
Dante
is back, which I gathered when I realized that the comments really do work. Definitely a good thing. Hmm...I think I'm going to do some homework now.
After I play a few more games. UGH, I'm such a NERD!


27.5.04
UGH
So the comments aren't working. UGH! That pisses me off. I've done everything (
EVERYTHING
) that it says to do in the Blogger help section and they
still
don't work. And I lost the code from my old comment system. Oy. Oh well. I'll get them back up ASAP so that De Marquis can woo me again.
new layout
So I decided I hate pink. So I went for green. But unfortunately, since this isn't one of those templates that is done by
Blogger
, there are a few kinks that I need to work out. Please, please, please
e-mail me
if the comments don't work, because I had to put all that in my self and I have absolutely no idea if it works or not. Other than that, whaddya think? Pretty nifty little layout isn't it? I like it, I think. We'll see how I feel about it once I'm done sprucing it up to match all the requirements I have for it.
26.5.04
presidential debate
I was so excited earlier today when I heard that Princeton University was going to be the site of one of this year's Presidential Debates. Yay, the perfect opportunity to puke in public as W. is speaking. But no, I checked the official website, and Princeton is not listed. How much does that suck? I was actually very excited to be able to get to hear what Kerry has to say about a lot of thing since he, like so many other politicians, likes to talk in circles when fishing for soundbites.
But anyway, here's the quote of the day:
"Many of the punditry--of course not you, but other punditry--were quick to say no one is going to follow the United States of America."
George W. Bush
January 21, 2003
Sepaking to the press at the White House. Referring to the United States position on Iraq.
*quotes of the day come from Presidential (Mis)Speak


24.5.04
Hi, my name is George W. and I'm an idiot
"The reason to create this Department is not to create the size of government but to increase its focus and effectiveness."
George W. Bush
June 6, 2002
Speaking from the White House on the need to form a cabinet-level Department of Homeland Security.
Okay George, I know you can do it. You don't want to create the Department to create the size of the government? I think you mean increase because even you don't get to determine how much government we have (in the big sense).
**All quotes come from Presidential (Mis)Speak.


is that all?
Well, it seems that I have now (with this post), gone over the 200-post mark. That was the entire reason for this post. I'm pretty pathetic.
Yeah, I'm obsessed with Photoblogging, but you'll just have to deal with it. I LOVE THIS SIGN! If you look closely, you can see that the "required" height for drinking is under 5 FT TALL! (I took this at Senor Frogs in the Bahamas)

23.5.04
Henry sniffing another doggie at the dog park where we used to live in Virginia when he was a puppy.

Henry in my old (and very very messy) apartment.

Have I shown you my adorable doggie? This is Henry in his winter sweater. He is so cute. Look out for more Henry pictures to come.

busy week
So yeah, I haven't posted in a while. This was a crazy-ass week. On Monday....I went to my LSAT class (if I did anything else I seem to have blocked it out). On Tuesday I closed lunch, made a pathetic $45 and then washed down the bitter taste of making no money with a couple of beers with Jen at Fridays before heading home to watch American Idol and pretend to do LSAT homework. Wednesday was more fun LSAT class, although I did skip out early because I couldn't sit still (in anticipation of the American Idol results? God, I hope that wasn't it, because then I've sunk pretty darn low). So yeah, I pretended to do more LSAT homework. Thursday...ah, what a great day Thursday was. If you enjoy being tortured that is. First, I worked. Then, I came home. Then I went to my LSAT class. We don't usually have it 3x/week but since the hotel lost power last week during a thunderstorm, we had to reschedule it. We had a substitute teacher who had a VERY LOUD voice and who was very nice, but perhaps should consider lowering her daily crack dose.
Ah, Friday, so close to the weekend. That is so NOT what I was thinking when I got up on Friday morning. I was scheduled to work a double, but by the grace of God Caroline wanted to pick up a shift and I got to go home. For the morning only. Then I worked at night, and it was SLOW, but somehow I still didn't get out of there until 11:30, making it pretty darn impossible to get a good, full night's sleep before I had to get up in the morning for, yes that's right, more LSAT class. A test.
Perhaps it was the craziness of the week, but I didn't do so hot on the test. After going up 6 points to a 158 on the second exam, I dropped 5 for a dismal 153. But ya know what pisses me off the most? That when I do this shit at home, and I time it, I'm getting like a 170. Anyway, I need to go do more homework, b/c I'm currently skipping the review session so I can get my homework done. I figured why sit there for 4 hours and get told what the right answer is when I have the answer sheet right in front of me. Instead I decided to be more productive and spend those four hours actually practicing the problems and getting better.
Okay, marathon post is over.
Almost.
Did you see the pictures? So ya like them?
Oh yeah, one last thing. Does anyone know anything about tanning (the fake kind, not the actual in-the-sun kind). I wanna go and get a base tan so I don't burn like a lobster this summer, which will inevitably happen if I don't go tanning. But I mean, are you supposed to wear your bathing suit? I kinda would like not to have tan lines, but at the same time I think maybe some areas that don't generally see the sun might get a little tender and burnt, doncha think? Please weigh in on this, I'm a tanning virgin!


Have I showed you the Royal Mews yet? Sorry if I have. I'm getting a little carried away with this BloggerBot thing and the fact that I can now just send my pics right to my blog. Anyway, Royal Mews. It's where they keep the horsies. And the Land Rovers and Bentleys. I took this picture when I was standing literally right outside the front door of our hotel.

So this is a raven in the Tower of London. A king (and for the life of me I can't find the brochure from the Tower that would tell me which one) was once told that if the ravens ever left the Tower of London then the empire would fall. So to this day, ravens are kept in the Tower (I know, you're thinking that it wouldn't be that amazing if it had happened like last year or something, but I'm pretty sure the prophecy came at least a few hundred years ago.).

Me in front of Big Ben. I can't show you the picture of me in front of Big Ben where you can actually see the clock because its an absolutely horrible picture of me. And this one's not that crappy.

The Tower Bridge was one of the absolutely most beautiful pieces of architecture I've ever seen in my life. This picture totally does not do it justice.

Return of the Quote of the Day
"They will not hold America blackmail."
George W. Bush
September 5, 2002
Referring to America's terrorist enemies during a speech in Indiana
In other Bush-related news, did anyone else hear that he fell off his bike this weekend? Which he was riding instead of attending his daughter's commencement ceremony, mind you. But I'm not really commenting.


16.5.04
hometown hero
Hell yeah, Smarty Jones won the Preakness. I was at work, and I admit it, for the two minutes or whatever that it took to run the race, I was a bad server. I ignored my tables and went to the bar to watch. What a great fucking race! I hate to sound too pop culture or whatever, but I
read
Seabiscuit
last year (I saw the movie too and I have the DVD)and the way Smarty runs reminds me a lot of Seabiscuit. He was just biding his time until the end and then he just let it all loose. I mean really, who wants to watch a race where one horse is in front from start to finish. Smarty Jones likes a good finale. And he likes to rub it in just a little and go "yeah, I could run faster than your ass the whole time, I was just putting on a good show." Still, I wouldn't place a bet on him (yet) for the Belmont Stakes, especially considering what happened with Funny Cide last year.
But yay for the hometown hero (in case you're wondering, Smarty Jones is from the Philly area--and obviously so am I).
"Smarty" Will Chase Triple Crown at Belmont


14.5.04
with a great big grin on my face
What is it that they say? Write from experience? I haven't scrapped my other novel, I just started another project. I haven't had the time to really work on my other novel in the way that I've wanted to lately, but my experience in London has inspired me (you've seen the pictures, so you must understand why). So I started writing this story about a girl who after graduating from college takes a five week trip to Europe (mostly London, although I may add in a few of the other European cities I've been to, but that may be hard considering its been 7 years since I was in Paris, Munich, Barcelona, Madrid, Geneva and all those other places I've been to--wow, looking at that list, I've led a great life). Anyway, the point is, I'm sitting here and writing the beginning of this story when this girl (nameless at this point) arrives in London and I'm grinning from ear to ear just describing her feelings (my feelings). Everything from London is so vivid still in my mind. I don't want it to ever fade away, but I know it will. Oh but I don't want it to. I've never been anywhere that I felt so exhilarated and at home. So....I don't know. Arriving in London was like this feeling of...I know where I belong, or I know what it feels like to truly be in love, not with a person, but with my life, with this place. It's so cliched, but so unbelievably true. I think part of the reason that I haven't shared the exact details of my trip is that if I tell you, then it's over. Then I'm back, and I'm this 23 year old American girl who lives with her parents and waitresses for a living and had this great trip, but has actually had to go back to her life. I can't even tell you how much I really wanted to just say fuck it, I'm gonna find a way to get a job so I can get a visa so I can stay in this wonderful, vibrant place that has more life than any place or any single person that I've ever met. I have to go back.
13.5.04
its a picture fiesta!
So, here are some more pictures from London.
Westminster Abbey
Trafalgar Square

There are tons of protests here on weekends (I took the picture on a Saturday).
The White Tower (at the Tower of London)

Can you believe that construction on this building was started by William the Conqueror in 1066!?!
Piccadilly Circus

The "Times Square" of London
Regent Street
London Victoria Station
Covent Garden

Or, as my mom's hairdresser calls it, Covenant Garden (hehe).
That's all for now. Lots more to share later!
more pics
So I'm not gonna do the pics 1 per post because I'm supremely Lazy (yes I meant to use a capital L). But I will put some captions or at least title the pictures for you, cuz I'm nice like that. So here goes.
Mom On Carnaby Street
Big Ben and the Houses of Parliament
Did you know that Big Ben is actually not the clock or the clock tower itself? Big Ben is actually the bells inside the clock tower. See, I'm full of useless knowledge.
Notting Hill
Look, just like in the movie!
Okay, that's it for tonight. I'll upload more when I get the chance (so like Sunday, when I'm off from work again).
12.5.04
the first of the london pics
I found a great new place to host images for free (and you don't even have to register!). It's called
Photobucket
and I think its pretty good. Anyway, here's the first of the pictures.
So this is Downing Street, where the Prime Minister of the United Kingdom lives. Traditionally the Prime Minister lives in the apartments located above the offices at 10 Downing Street, but current Prime Minister Tony Blair actually lives next door at 11 Downing Street because his family is too large for the apartments above #10 (he's got 4 kids).
i hate textamerica
So I'm pretty pissed at
textamerica
right now. For over a week when I try to upload pictures it literally says that uploading is disabled until "like tuesday." First of all, it said that last Monday and on like Tuesday it still didn't work. Nor on Wednesday. So then I tried it this Monday and I got the same message. Get on top of it already. I want to post my pictures from London but I don't want to do it one at a time by emailing my textamerica account. I hate computers. Okay, that's not true. I just hate textamerica. I would use
village photos
but you're not allowed to remote load pictures from your account there anymore (which, if I might say so, completely ruins the purpose of having an account there). So that sucks. I'll figure out a way to get all the pictures up one day. I PROMISE. I so want everyone to see my pictures from London because they're so awesome. I will also one day tell you about the trip. Maybe in the form of a little picture story. Wouldn't that be fun?
11.5.04
poor
I made $10 today! TEN!!!!! Actually, while I obviously would have preferred to make more money than that, I'm not actually mad. I was supposed to close lunch so I knew there was a possibility that I would be on the patio (they try to put one opener and one closer on the patio) and it just so happened that it was a tad on the hot and stick side today. I think it was like 86 degrees with God only knows how much humidity. We get a lot of humidity here in New Jersey, seeing as we're built on a giant marshland. Kinda makes things a little on the watery side ya know? Anyway, I only had two tables and thus made ten dollars, but that's the way it goes. I'll live. Especially since I made like $475 in like 25 hours last week. Oops, its almost the end of American Idol. Gotta go watch.
10.5.04
i hate bathing suit season
So I really hate bathing suit season. And not because I think I'm too fat or I need to go get a fake tan before I venture outside in my suit, but because I have big boobs, which means that it is next to impossible to find a swimsuit. Forget getting a bikini. I finally got a real bikini last year and it cost like $140. Now this year that same designer has apparently pulled her line from Lord & Taylor so I'd have to drive like an hour just to find something that fits me. I look for swimsuits for women with big busts, but then I inevitably end up looking at plus size swimwear, which won't work because I wear a 2. It's so frustrating. What is up with swimsuit designers only designing for chicks with no boobs. Ugh. Anyway, I'm off to try to find myself a bikini although I'm sure I'll come home empty handed. UGH!!!!!!!!
love actually
So, just a side note before I say what I actually wanted to post about: I am really feeling this new look to Blogger (obviously, if you don't have a Blogger blog then you've got no clue what I'm talking about, but just go with it, k?).
Anyway, I wanted to write about a film that (don't laugh) I actually consider to be a pretty fantastic piece of modern art. I bought my mom the DVD of
Love Actually
for Mother's Day and we watched it this evening when I came home from class. I had seen it before, but I had forgotten how good the film actually made me feel. In particular, the beginning and the end. If you've seen the film then you know I'm talking about the scenes from Heathrow Airport where they show real people greeting each other. At the beginning of the film there's this bit with Hugh Grant talking about watching people greet each other at the Arrivals gate at Heathrow and how he's got this "sneaky feeling that love actually is all around us."
The first time I saw the film I almost started crying right then. It's touching. And the film proceeds, managing to snake together 10 different storylines starring some of Great Britain's most famous and talented actors, like Hugh Grant, Colin Firth, Emma Thompson, Alan Rickman, Liam Neeson and Rowan Atkinson (not to mention, of of America's finest talents, Laura Linney). With a cast like that, you'd think that they'd all be dying for the spotlight. But the movie is seamless. And its gorgeous. If you haven't seen it, go rent it. It's not just about romantic love, its about love of all kinds, and I haven't met a single person who hasn't been in love with the film itself.
9.5.04
yeah yeah
Yeah, I'll get those pictures up soon. Not to mention my in-depth report of the trip to London. But I've just been bombarded by work this week. I'm behind like you wouldn't believe in my LSAT class because of the trip abroad, and then I've been working nonstop. I worked a double on Thursday, a double on Friday, woke up at 8am this morning to take my LSAT diagnostic and then had to go to work tonight. Then we got evacuated b/c the fire alarm in the mall went off for what I can only imagine was not a real emergency, seeing as they didn't make us evacuate until five minutes before they let everyone else back in (the alarm went off for like 20 minutes). So that was fun (dripping with sarcasm here guys). Then, get this, later in the night, the damn thing goes off again. And people had the NERVE (not to mention class) to complain about it. Do I look like the fucking Fire Marshal? Yeah, I get that its annoying, and loud, and it makes a really fucking obnoxious noise. But don't ask me if I can turn it off you ignoramus. It's a fire alarm. Maybe you should try sucking the Fire Marshal's dick and then he'll turn it off for you. But honestly, complaining about it just makes my life more difficult. Deal with it. If you don't want to, get out. I could care less.
Deep breaths. Had to get that off my chest.
ANYWAY, as I was saying about my delinquency in putting up London pictures/details of the trip. Tomorrow I have to work in the morning, as its Mother's Day and a mandatory work day. Then I have to go to my LSAT class tomorrow night for a review of the diagnostic we took today (by the way, I got a
157
, 5 points higher than I got on the first one--and people usually do worse on the 2nd one b/c they're trying to use all the techniques we've learned and stuff--so I'm pretty damn proud of myself...looks like Lauren might be going to a good law school after all). Then Monday I have the class, Tuesday its work, Wednesday class, Thursday/Friday double, Saturday dinner and then
finally
next Sunday I will get a full day off. I hate my life. I wanna go back to London. I'd even be okay with this kind of schedule in London. Hell, I'd need this kind of schedule in London b/c God knows I couldn't live on anything less. Okay, bed. Now.
3.5.04
Back in the USA
Well, I'm back, but I'm so freakin jetlagged that I'm just using my computer on my bed rather than at my desk. A full report of the trip is soon to come, but for now I'll just acknowledge Dante's comment that they have lots of "nekkid" shows on regular TV in the UK. I did notice that. I did also see some of The Office, which looked like it was funny. My favorite part of the trip was undoubtedly the theatre though, especially Blood Brothers, which we saw on Thursday night. If anyone ever goes to London and gets a chance to see a West End show, I definitely recommend that one. Anyway, look for pictures to be on my moblog over the next couple of days. For now, its time for me to catch a few.